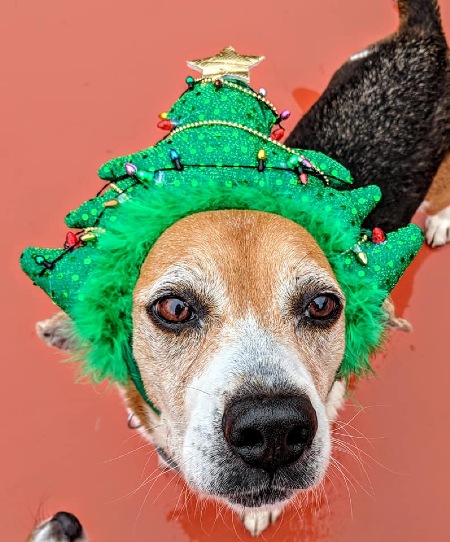 Aloha & Happy Howlidays from...

HILO KENNELS AND DAYCAMP

...Serving our K9 Community since 2010!

~ (808) 959-8360~

Located on the Big Island of Hawaii, in Waiakea Uka, Hilo

The HOLIDAYS are coming!!! We strongly recommend making reservations as soon as you know you will be needing us. We frequently sell out every Holiday and most weekends, especially for our larger Guests.
Aloha!
~~~~~~~~~~~~~~~~~~~~~~~~~~~
Our own holiday hound, HOKU!




PLEASE NOTE AVAILABILITY UPDATE, BELOW !
~Call us at (808) 959-8360 to Inquire~


Send in your "Reservation Request" as soon as you know your travel plans! There is never a "Cancellation Fee", so better to have you on the calendar to ensure a suite for your furry family.


AVAILABILITY UPDATE AS OF NOVEMBER 16th, 2018



~WE ARE SOLD OUT and DAYCAMP IS CLOSED to NEW Reservations:


FRIDAY, DECEMBER 7th through SATURDAY, DECEMBER 8th, 2018

AND...
MONDAY, DECEMBER 24th through FRIDAY, DECEMBER 28th, 2018

AND...
MONDAY, DECEMBER 24th through FRIDAY, DECEMBER 28th, 2018

ALSO.....
DAYCAMP IS CLOSED MONDAY, DECEMBER 31st and TUESDAY and JANUARY 1st, 2019.


NOTE:

(IF YOU ARE A RETURNING (current) CUSTOMER, please call if you need us during these sold-out periods, and we will do our very best to fit you in.)
~~~~~~~~~~~~~~~~~~~~~~~~~~~~~~~~~~~~~~~~~~~~~~~~~~~~~~~~~~~

<<<<<<<<<<< ANNOUNCEMENT FOR OUR LARGER GUESTS!!! >>>>>>>>>>>>

Please NOTE:

We are no longer be accepting NEW Large Guest applications. In order to continue to offer the highest level of custom services to our current Guests, we will only be accepting Reservation Requests and DayCamp Requests from NEW Guests UNDER 20 LBS, and with a temperament suitable for the Penthouse Parlor.

We apologize for any inconvenience, and remind our CURRENT Larger Guests that this does not effect you!

WE WILL CONTINUE TO SERVE OUR CURRENT LARGER CLIENTS AS USUAL!

Mahalo for your understanding.

David and Jenipher Jones
Resident Managers
(eff. 04/01/2017)


~~~~~~~~~~~~~~~~~~~~~~~~~~~~~~~~~~~~~~~~~~~~~~~~~~~~~~~~~~~~~~~~~~~~~~~~~~~~

WE STRONGLY RECOMMEND THAT YOU SEND A RESERVATION REQUEST AT YOUR EARLIEST CONVENIENCE! Remember, there is NEVER a "Cancellation Fee" with us, so reserve early to ensure a suite for your furry family!!

Please NOTE: Weekends and the weeks near a Holiday sell out regularly, usually 10 to 21 days in advance. Please send your RESERVATION REQUEST well in advance, to ensure there is space available for your furry family member.

~~~~~~~~~~~~~~~~~~~~~~~~~~~~~~~~~~~~~~~~~~~~~~~~~~~~~~~~~~~~~~~~~~~~~~~~~~~~~~~

Appointments for tours are scheduled as time permits, excluding Sundays, Holidays and sold-out dates. Give us a call at (808) 959-8360 to schedule a tour! No unscheduled visits, please.

DayCamp may be closed or limited when we are sold out for boarding. We apologize for any inconvenience.

DayCamp is CLOSED: Sundays, all Holidays and most "Sold-Out" days.

~~~~~~~~~~~~~~~~~~~~~~~~~~~~~~~~~~~~~~~~~~~~~~~~~~~~~~~~~~~~~~~~~~~~~~~~~~~~~~~~

You Can:

> Submit a reservation request online.
or
> Call us at (808) 959-8360

~ Schedule a pre-visit appointment (Optional)
~ Reserve a DayCamp visit for a guest
~ Reserve a Guest Suite for overnight boarding

Please check our Boarding & Options page for pricing and optional add-on services.

MAHALO!
==================================================================================





Maggie and little hanai sister Olina partying in the Penthouse Parlour!
==================================================================================


See more fun photos on our Facebook Page !!

We are so grateful for our customers, old and new; our quality surveys tell us they love us, when it comes to resort style, squeeky clean dog boarding and DayCamp services for their much loved K9s.

With our triple fence system, you can leave your pet with us knowing they'll be safe and secure until you return.

We enforce strict guidelines regarding sanitation and health. Every pet we board (and all of our own animals) require proof of current vaccines, including Kennel Cough (bordetella). All guests are inspected thoroughly at check-in for fleas, ticks and other parasites. If any pests are found at check-in or later, we will treat with a topical product (see options price guide) to ensure the health of your pet and to maintain our pest free environment.

Personal items from home are always welcome for Boarding and DayCamp guests. Please remember to label each item with the guests' first and last name.

REGULAR BOARDING INCLUDES...

for Small Guests (25 lbs or less)

We offer individual suites with house, raised orthopedic cot, cozy bed or rug; group play at the "Penthouse Parlor" (temperament permitting); personal attention and lap time; custom feedings; Play time in one of the grass yards if appropriate; morning and evening feedings; 1-2 treats per day; sanitized toys of different sizes and textures; music and lots of tummy rubs.

for Large Guests (over 25 lbs) : NOT ACCEPTING NEW LARGE GUESTS at this time.

We offer individual Suites in spacious 5x5 or 5x10 Welded Wire, AKC Approved, 6 ft tall kennels. We have PetCots, Large Pillows, blankets and rugs to keep our big Guests feeling like they are home. Guests are allowed group/free play in the "Big Dog Yard", (temperament permitting), personal attention and affection; custom feedings morning and evening; 1-2 treats per day; sanitized toys; ample fresh water and weather protected areas. Those not suited to group play receive individual exercise, walks and play. Extra charges may apply if your Pet requires an indoor suite or special care.
~~~~~~~~~~~~~~~~~~~~~~~~~~~~~~~~~~~~~~~~~~~~~~~~~~~~~~~~~~~~~~~~~~
EXTRA CHARGES MAY APPLY FOR THE FOLLOWING SERVICES:
~~~~~~~~~~~~~~~~~~~~~~~~~~~~~~~~~~~~~~~~~~~~~~~~~~~~~~~~~~~~~~~~~~

NON-SOCIAL GUESTS (Any Size):

If your Pup is not able to mix and socialize with other Guests (for any reason), "Special Care" charges will apply. They will receive personal walks and play-time with us in a private grass yard or suitable area (based on size and health).

PUPPIES (UNDER 16 WEEKS, ALL BREEDS WELCOME):

Based on the age and size of your young puppy, we can provide a secluded, limited group exposure until the Puppy has completed their series of vaccines. Once the immunizations are completed, your Puppy can be gently introduced to full group play and activities.

BOARDING FOR ELDERLY, INJURED, SICK OR RECOVERING GUESTS:

We can provide a quiet and comfortable environment for your Special Needs friend. We will follow yours and your Vet's instructions exactly regarding feedings, medications, supplements and environment. Please talk to us about your Special Needs Pet. We can be a home-away-from-home. Indoor/Special Care charges may apply.

~~~~~~~~~~~~~~~~~~~~~~~~~~~~~~~~~~~~~~~~~~~~~~~~~~~~~~~~~~~~~~~~~~

DOGGY DAYCAMP DETAILS:

We have a limited number of spaces available for DayCamp. Hours of operation are:

7am to 6pm ~ Monday through Saturday

Reservations are required at least 2 days in advance. Full and Half days can be reserved.

DayCamp offers group play, so guests must be vaccinated, somewhat socialized and non-aggressive. We can provide DayCamp visits for non-socialized Guests for an additional charge of $3 per visit.


Our goal is to provide your Pet with a safe, secure, clean, fun, and enriching environment in your absence. We will treat your Pet like it's part of our own pack. We've outfitted our kennels and facilities with the best kennel enclosures, raised orthopedic beds, a weather-proof environment with an open-air tropical feel and top of the line toys and accessories to ensure your Pet feels safe and content.

We've got separate boarding areas for our Small and Tiny guests. We call it the Penthouse Parlor. There's no big dogs allowed in the Penthouse, so our small Guests don't have to be concerned.

Our grass play yards are spacious, clean and offer great views of the surrounding lush tropical rain forests of Waiakea Uka. We've got a flock of chickens roaming the property, which provide endless entertainment for both our Large and Small Guests. The occasional wild pig troupe can be seen tramping through the back acreage, and we can count on our guests to let us know exactly where they are!

We live on site, so your Pet is never alone on the grounds of Hilo Kennels & DayCamp. We don't punch out and go home at night or on weekends... we ARE home.

We're committed to using re-cycled materials and local products wherever possible and practical, in the Kennels as well as in our personal lives. We watch every penny so we can offer the best value for your pet-care dollar.

In the pages that follow, You'll find details on our boarding and other services available. We'll provide a clear explanation of what is included and what is optional. There's never any hidden fees or surprise costs.

There's lots of pictures of our facilities here in Waikea Uka, Hilo. From the Penthouse Parlor to Big Dog Central in the grass play yard. We've added "bark!-imonials" from our guests and you'll meet a few of Hilo Kennels' mascots (our own Pets!) like Peni and Hoku.

We hope you'll bring your furry... or not so furry... K9 friend to join us for play, fun, attention and affection for the day, week or month at Hilo Kennels & DayCamp!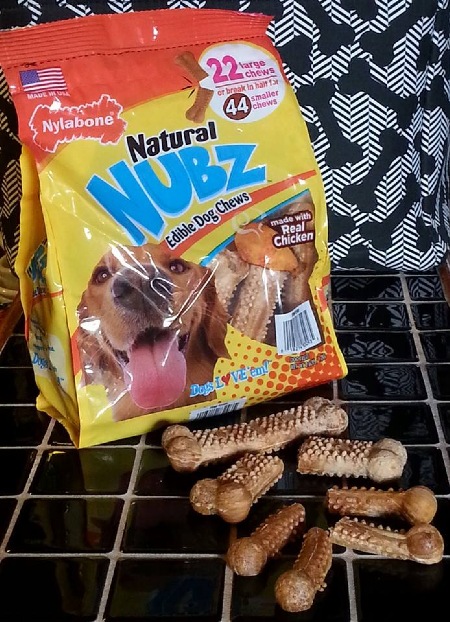 Our most requested healthy snack is...

NUBZ

Dental Chews by the wonderful folks at NYLABONE in New Jersey, USA.

We cut them to suit the size of the Guest and they all LOVE these USA Made snacks!

Available for sale in our reception area!